Ulyssees Turner Memorial Education Fund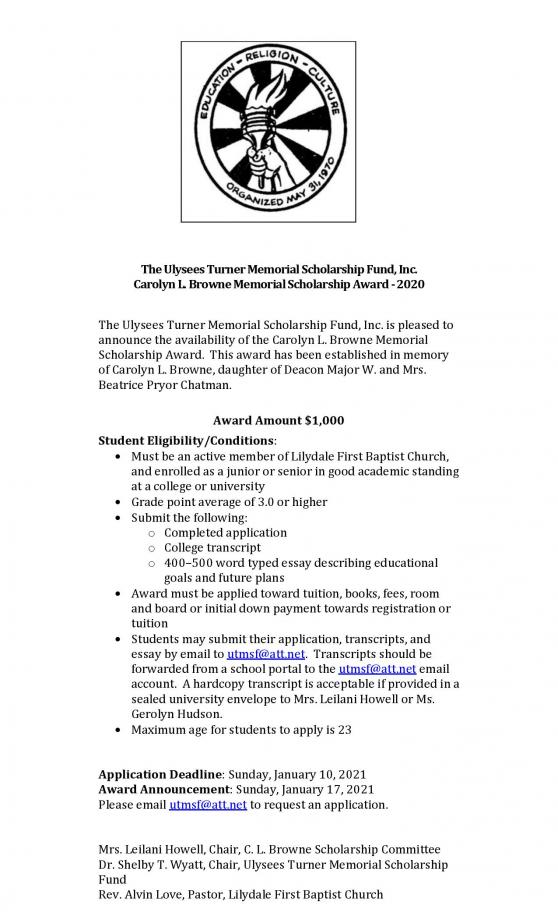 The Ulysees Turner Memorial Scholarship Fund was organized on May 21, 1970 by the Young Adult Sunday School Class with a donation of $250.00 from Mr. Robert Chatman, class member. Deacon Daniel Wearring was the Teacher of the Adult Sunday School Class. The Ulysees Turner Memorial Scholarship is a non-profit organization with no salaries or overhead expenses.

The Scholarship was established in memory of Deacon Ulysees Turner who served on the Deacon Board, a Sunday School Teacher, Superintendent of the Adult Sunday School Division, secretary of the Trustee Board, and sang in the Sanctuary Choir.

The principles of the Scholarship Fund have always been to financially assist Christian youth (not limited to Lilydale First Baptist Church ) beween the ages of 16 to 23 regardless of race or gender and who are attending or planning to attend college.

The Ulysees Turner Memorial Scholarship Fund has become more than a Scholarship Fund. It is a scholarship-aid that has granted numerous scholarships ranging from $60 to well over $2,500 for 38 years. The recipients of these awards were Sunday School Youth, winners of Oratorical contest during the Sunday School Spring Festivals, the Cotillion/Beautillon or to deserving young people and educational organizations who were in dire need of financial support.

Ulysees Turner Memorial Education Fund is an award granted to needy students who are enrolled in college. Applicants must submit a letter of request detailing reason for request along with proof of enrollment.